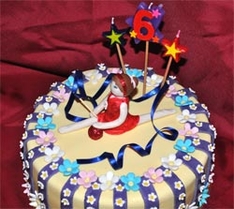 This is a girly and sporty birthday cake. It has cute little fondant flowers and gymnastics elements as well. I loved the idea of a curly ribbon swirling around the top of this gymnastic themed birthday cake.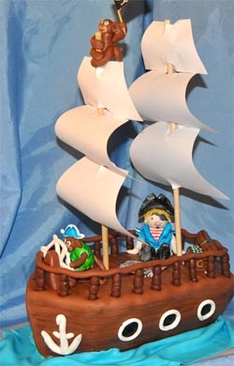 This is a pirate ship birthday cake for boys. It is covered with chocolate fondant and decorated with fondant figures of pirate monkeys and a pirate. It has paper sails but all other decoration on this pirate themed cake are edible and made of marshmallow fondant.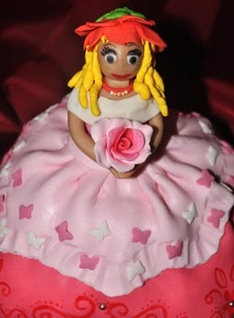 This is a birthday cake made in the shape of a princess doll. There is a cake inside and it covered with marshmallow fondant. The top of the princess doll is also made of fondant. Very often such princess cakes are made using a real plastic doll, but this cake is edible from top to toes. It is sweet, colourful and girly.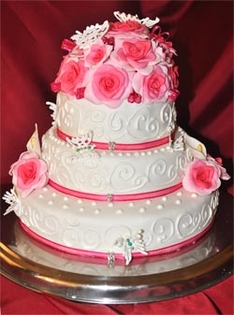 Wedding Cake with Roses and Butterflies
This is a very classic wedding cake. It is a three-tiered wedding cake covered with marshmallow fondant and decorated with marshmallow fondant roses and sugar butterflies.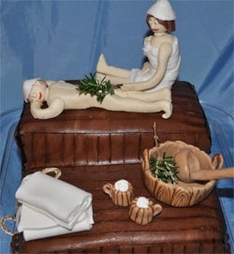 This is a very special sauna birthday cake and would be a great sweet surprise for any sauna lover. It was great fun to make and decorate this sauna cake. I love to work with little details on cake decorations.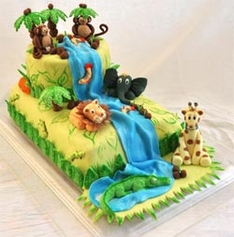 This is a two-tiered jungle cake for boys and girls. It has lots of pretty jungle animals fondant decorations, such as fondant elephant, giraffe, crocodile, monkeys etc.. It is very colourful and it makes it one of the best birthday cake ideas for kids.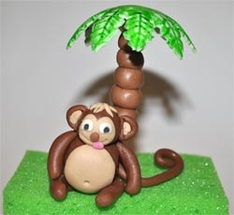 These are examples of jungle cake decorations made of marshmallow fondant. You can see the pictures which might give you some ideas and tips on how to make your own jungle cake decorations for the coming birthday of your little one.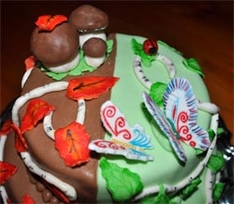 Spring-Autumn Seasons Birthday Cake
This seasons birthday cake is decorated in a very special way. It shows connection of two opposite seasons – autumn and spring. It was a specially decorated birthday cake for a person who came to Australia from Europe and now his birthday is celebrated in spring opposite to autumn as it was before. This seasons birthday cake unites these two seasons in a beautiful sweet way.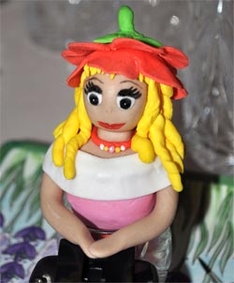 This is a top of a future Princess birthday cake. I decided to go with a totally edible doll shaped princess cake and made this top half from marshmallow fondant. Later I will attach it to the cake which will make a bottom part in the shape of a skirt.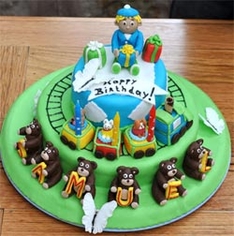 Train and Teddy Bears Birthday Cake
This is a very special train and teddy bears birthday cake made for a little boy's birthday party. It is a two-tiered cake covered with marshmallow fondant and decorated with marshmallow fondant teddy bears holding edible fondant letters making the name of the birthday boy.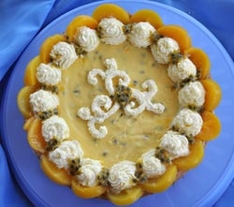 A passion fruit tart like this one is the most delicious desserts to have on a hot day. It is very light but reach in flavour. One of the main ingredients is passion fruit and it has a very definite flavour and a nice sour taste as well.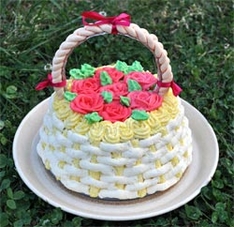 This basket of roses cake is very sweet and has lemon butter cream inside and out. It is decorated to look like a basket with roses. I used a bit of marshmallow fondant and butter cream to make a basket kind of pattern and butter cream roses. Such basket cake would make a fantastic birthday cake surprise.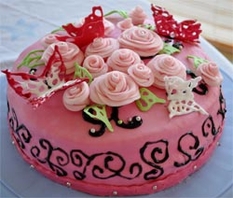 Pink Roses and Butterflies Cake
This pink cake with fondant roses and sugar butterflies was one of my first attempts to work with fondant cake decorations. Even though it has a few flaws this roses and butterflies cake was made with lots of love and passion.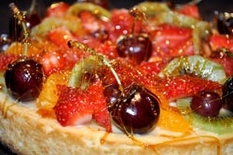 Cheesecake with fruits and caramel
This cheese cake was made and decorated with lots of passion and working on it I practiced how to work with sugar decorations, which was so hard but lots of fun. A decorated this cheese cake with lots of colorful fruits and whole cherries and swirls and curls of caramelized sugar.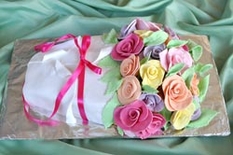 This is a rose bouquet birthday cake. It is decorated to create the look of a wrapped bouquet of roses. I covered the cake with marshmallow fondant and put a couple of layers of fondant to create a more real wrapping paper. To make this bouquet bright and happy I made fondant roses of different colours.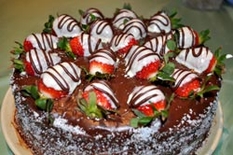 Chocolate and Strawberries Birthday Cake
This is the most chocolate cake I've made do far. It is chocolate inside and out. And of course strawberries were the main decoration as they are the best to decorate with chocolate and taste so good with chocolate together.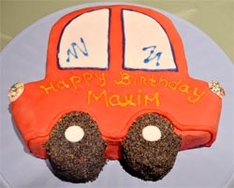 It is a very simple red car birthday cake made for my little boy's birthday. It was a very simple sponge cake with poppy seeds and raisins. It is covered with marshmallow fondant and decorated with writing icing and poppy seeds on the wheels. It is quite simple but very quick and cute way to make your kids birthday special.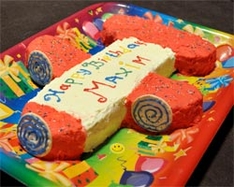 This is a very simple and fast to make airplane birthday cake. It is cut to make an airplane shape and covered with whipped cream which I coloured in the favourite colours of the birthday boy. This kind of cake is for those who have not much time for detailed decorations and fondant making. It is still bright and pretty and all little ones will be happy to blow birthday candles on their favourite character birthday cake.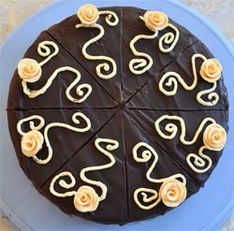 A very simple chocolate cake with cream colour roses is one of the best and pretty options for a small adult birthday party. It is simple but elegant. This kind of cakes are made to taste delicious and can be decorated in a more simple way. Even having a few little fondant roses on top it still talks "celebration".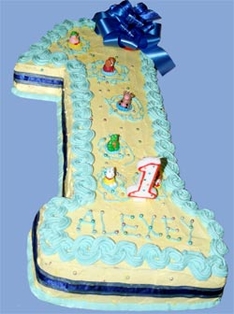 Number shaped cakes are very popular birthday cakes for kids and adults as well. Numbers are very symbolic and are used to underline the age of a birthday person and this cake idea is used a lot to celebrate very special dates like first birthday or twenty first birthday and so on. This number one birthday cake was very special for us as we celebrated our child's first birthday.