The weather is so warm these days and I wanted to make a cake that is light but rich in flavor at the same time. Passion fruit is a perfect ingredient for such cake. It brings a lot of flavor and a bit of sourness as well.
I made a simple thin base with some almond meal added. Almond makes it crispy and adds very nice flavor too. What I loved about this base too is that it is so easy and fast to make. Just about 20 min in the fridge to set and then another 25 min to bake, and that's it.
The filling was even easier. I mixed powdered sugar with egg yolks until white and thick. Then added passion fruit, whipped cream, and a bit of gelatin. And in the fridge it went. Meanwhile I whipped some more cream for decorations. Also I used canned peaches, I just really love them.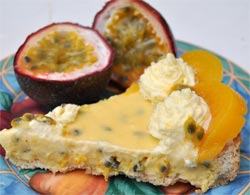 But I think next time I would use mandarins, it requires a bit more work with peeling of each little part but it would make a beautiful decoration too.
After the filling is set it has beautiful color, texture and taste. It is so light, sweet and sour at the same time. It makes a perfect combination with crispy base and light whipped cream and peaches (or mandarins) on top. It would make a perfect birthday cake for a summer party. May be this tart and a fruit salad with citrus fruits, grapes, pineapple and passion fruit yoghurt would beautifully go together for a dessert.