Gymnastics is a very popular sport in Sydney, Australia. Every time I go shopping in the local area I see lots of kids, mostly girls, dressed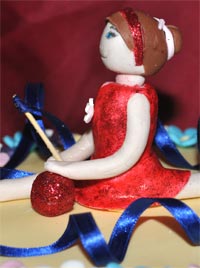 up to do gymnastics in the school just nearby. I didn't know much about this sport and had to do some research, before I decided on the design ideas for this gymnastics birthday cake.
I found pictures of so beautiful gymnastics costumes. They are bright, sparkling – the same as the make up and hair decorations. There are also all these different tools that they use for performances. I liked balls and ribbons the most, and I used them both for my gymnastics cake decorations.
As always I had a bit of time limit. And I was thinking that if that is a cake for a girl, there certainly have to be flowers and nice range of colours. It had to be a girly and a sporty cake at the same time. That is why I made purple fondant stripes to create a circle kind of arena, to make it a little sporty. And I also made some fondant flowers of very light and pretty colours, to make it a bit girly too.
I used bright red colour for the costume decorations and the ball. I got some shiny red sparkles: edible and non-toxic, which is very important, especially if it is about a kids birthday cake. I hope that made the fondant girl's look shiny and bright. For some more brightness and contrast I chose a blue shiny ribbon – the only not edible part of the cake decorations. The most fun was to make those circles with that ribbon to give it a waving and very real look. I used glucose syrup as "glue" to invisibly attach the ribbon to the fondant cover of the birthday cake. The glucose syrup is transparent, has no taste and very sticky. It could be a perfect "glue" for cake decorations.
The star shaped birthday candles were the perfect finishing touch for a bright sporty birthday cake.