A simple but cheerful jungle themed nappy cake. It has neutral colours to make a perfect gift for a baby boy as well as a baby girl. The colours and decorations are very nice for a baby gift or a baby shower gift.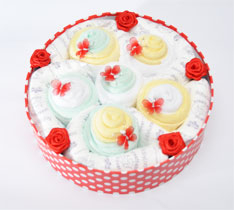 This is a unique and colourful baby shower nappy cake gift. It contains nappies and baby washcloth packed in a pretty polka dot round gift box. It is a beautiful baby shower gift ready to go and make someone feel very special.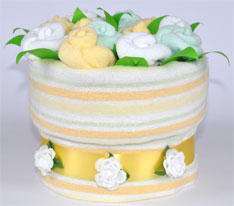 A flower pot nappy cake. It is a nice flower themed nappy cake for a baby boy or a baby girl. It has only neutral colours and will always be a perfect baby gift, especially in cases where it is not know if it is a boy or a girl coming soon.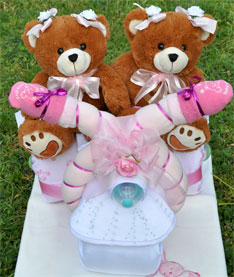 Bike Nappy Cake for Twin Girls
This is a unique bike nappy cake for twin girls on the way. It made a perfect baby shower gift and put a lot of smiles of everybody's faces. Two cute teddy bears sitting on a pink and white bike made of lovely baby products, such as nappies, baby wrappers, baby blankets, baby bottles and more, altogether made a lovely baby shower centrepiece.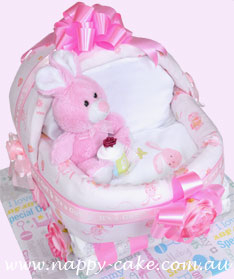 This is a baby pram nappy cake for a newborn baby girl. This nappy cake would make a perfect baby shower gift or a gift for a newborn baby girl. It is decorated with pink ribbons and bows and the theme used on that nappy cake is about pink bunnies and pink baby animals.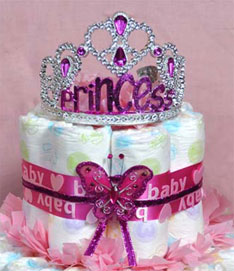 This is a very classic way to create a nappy cake. Nappy cakes are very popular as baby shower gifts or gifts for new mums and their newborns. Nappy cakes are very colourful and are made with nappies, toys and other baby stuff which makes it nice looking and very useful.