A few last days were so hot in Sydney, I didn't really want to go outside and so I found some time to made a princess birthday cake. In the beginning I prepared a part of a fondant princess decoration. I thought it would be a fairy cake, but later on decided to go with a princess birthday cake idea. I always wanted to make such cake with a beautiful pink ball gown.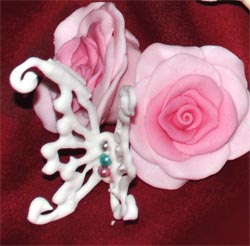 Everything on this cake was edible as I always do for all my cakes. First of all I baked a butter cake and made a few layers of light and very fruity filling. It was a sour cream with sugar and mango filling. It went really well with butter cream sponges and was so smooth and light.
All decorations were made with marshmallow fondant. I also used food colour to draw some patterns on one of the skirts. And on the very top skirt I put little white and pink sugar butterflies, which I previously bought in the supermarket.
Very often cake decorators use plastic dolls to put inside the cake. I know that they look pretty and have nice figures and beautiful shiny hair, but for me it is a little weird to have a plastic doll inside the cake. That is why I went for totally edible fondant princess with a little cute flower hat, big eyes and beautiful little fondant rose in her hands.
As I know such princess cakes are very popular birthday cakes for girls. They love to play with princess dolls and of course love beautiful dresses. This cake would be a perfect birthday cake for a princess or fairy theme birthday party.