Basket of Roses Lemon Cake
A basket of roses, what a beautiful surprise it would be for any birthday! It is quite unusual and so pretty. I think that would make my mum smile on her birthday, it certainly would. Or it would be a perfect sweet gift for any other relative or a friend.
It was a three layer basic butter cake with added lemon zest, and a new filling. This time I tried to make a filling with semolina and butter. It is quite different from basic butter cream; it tastes much lighter and with two lemons added it made a perfect combination for my lemon cake. It tasted so good and so lemon.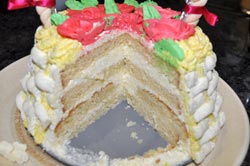 I also tried a new technique for the decoration. This time I wanted to work with butter cream. I bought some special devices which were supposed to help me a lot with making butter cream roses. But turned out, the most important was to practice, practice, and practice. I had to make about 30 roses before I got my 7. But I still wasn't completely happy with the result.
The sides of the cake were covered with horizontal and vertical stripes to make a basket kind of texture. It also wasn't that perfect. I still need to do some more research on the technique. The other problem I had was about the butter cream itself. The powdered sugar didn't dissolve in the cream. I could still feel it in the cream even after long mixing.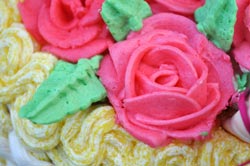 Next time I will add the sugar after the butter is whipped to a light and fluffy texture. Hopefully, that will work.
To make the handle was a bit tricky. As I was running out of time, the only idea that came to my mind was to make a fondant handle. I made a braid, screwed two toothpicks from each side to stick it into the cake. I had to attach a foil base under the handle to keep its shape firmly. To hold them together I used bright pink ribbons which I think gave the cake a bit of a playful look. As the result it turned out not that bad.