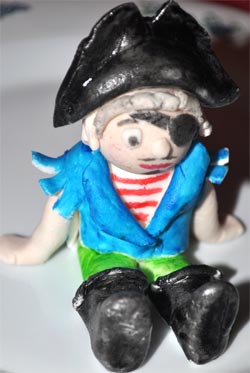 My little boy gets so excited when he sees a boat, a ship or a ferry when we go to a Sydney national park or a beach. I think many kids, especially boys, are so passionate about boats, ships and in particular pirate ships. There are so many stories, pictures and TV shows about it. At the moment Max's favourite pirate is Captain Feathersword from the Wiggles Show.
I thought that it might be a good idea to make a pirate ship birthday cake which would be a great treat for any boy's birthday party.

This was a butter cake with very smooth and sweet butter cream, covered with chocolate fondant. This cake is quite sweet but so good. For the boat itself I used the same technique as for sauna cake to make timber kind of look.

The most fun was to make a fondant pirate. Because I had not much time and needed just small quantities of fondant of each colour I decided to go with white fondant for all details. Then I used food colour and a very thin brush to paint all the parts. And magically from a plain white pirate figure appeared a very colourful cute looking pirate with a pirate hat, boots and a blue jacket.

I also made a chocolate fondant pirate monkey, a fondant treasure chest. What a pirate ship without treasures. Those bright and shiny mixed cachous made a great treasure look. And they are edible as well.

My favourite part of these pirate cake decorations is the monkey sitting on the very top with a pirate flag. It made me laugh and I think it was a very cool idea. This monkey is kind of screaming: "Pirates rule!!!"

The only not edible parts of the pirate cake were the sails. I used wooden stick and paper sails. To be honest that was the fastest and easiest way to go and I thought that this was the part that didn't need to be necessarily edible.