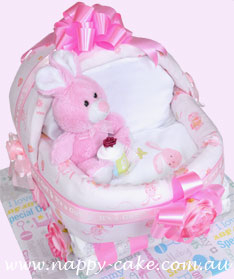 This is a baby pram nappy cake for a newborn baby girl. This nappy cake would make a perfect baby shower gift or a gift for a newborn baby girl. It is decorated with pink ribbons and bows and the theme used on that nappy cake is about pink bunnies and pink baby animals.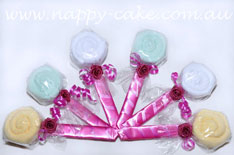 Here are some washcloth lollipops made with baby washcloths and sticks and decorated with ribbons and ribbon flowers. Such washcloth lollipops can be used as as a baby shower gift or as a nappy cake topper, it can also be a baby shower favor or baby shower party table decoration.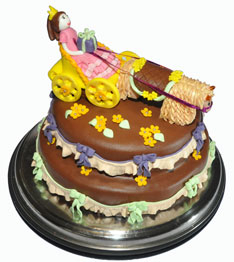 Princess Carriage Birthday Cake
This Princess birthday cake is one of the most wanted and loved birthday cake ideas for girls. This chocolate two-tiered princess carriage birthday cake has got a chocolate look and flavour, cute little fondant bows around every tier, a cute bright yellow carriage with the fondant horsy with golden fairytale mane and of course a fondant princess in a pink ball gown.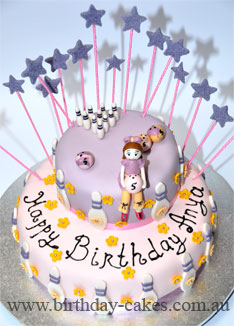 This is a bowling birthday cake for a bowling themed birthday party. This is one many kids cakes ideas. This one in particular, is a pink and purple bowling cake for girls. To make it a bowling cake for boys, just change the colour of the fondant to blue, green, yellow or any other neutral or boys colour and make a fondant figure of a boy.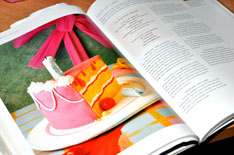 Cake decorating books is just the right thing for a self-taught person who likes to try things and learn by lots of practicing. There is so much contained in cake decorating books that will help you to learn the basics of cake decorating techniques and will disclose some simple cake decorating secrets and recipes.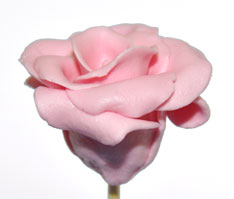 Here you can find some simple instruction on how you can make edible marshmallow fondant roses. Simply follow them to decorate your very special birthday cake. Or just make some beautiful fondant roses in advance for future occasions.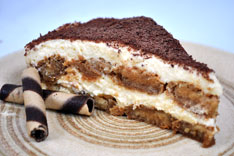 Have a look at this very easy tiramisu recipe. This is one of the basic tiramisu recipes. Tiramisu is one of the most popular and loved desserts. To make it extra special just add a nice cake decorating touch as shown on the pictures you will find.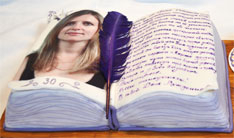 Edible cake images are commonly used as a convenient and easy but very impressive cake decorating idea to apply on the top of cakes or cupcakes. This is the way you have a beautifully decorated cake to match the theme of your party.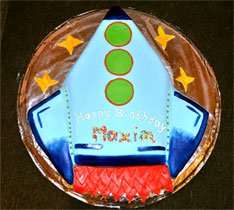 This is a very simply but still very bright and colourful rocket ship birthday cake for boys. It is a quick cake to make and decorate and best to match any space themed kids party. This kind of rocket cake doesn't take much time to make and decorate at all.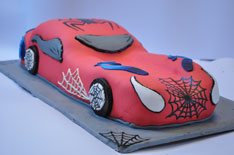 This spiderman racing car birthday cake could be one of the best birthday cake ideas for a boy's birthday party. It is a 3D racing car cake decorated to match a spiderman themed party. It is a perfect cake decorating idea to make any boy's party so special.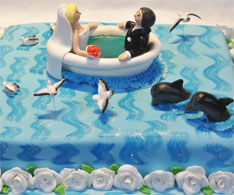 This unusual and very unique wedding cake was custom made for a very special couple. They had their very own love story and the details on this ocean themed wedding cake show it. It is very calm and has nice little details and wedding fondant roses around it.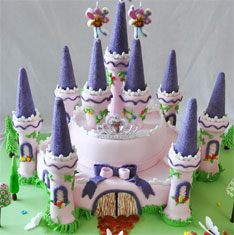 A castle cake is a fairytale dream cake for many little girls. There are so many princess castle cake ideas and designs. This castle cake has pink and purple colours and lots of detailed edible fairytale decorations.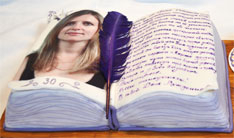 Book shaped cakes are very popular for special occasions, such birthdays, anniversaries and weddings. There are many ways you can decorate your unique book shaped cake. This particular book cake is decorated with an edible cake image of a birthday girl.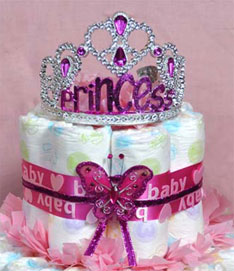 This is a very classic way to create a nappy cake. Nappy cakes are very popular as baby shower gifts or gifts for new mums and their newborns. Nappy cakes are very colourful and are made with nappies, toys and other baby stuff which makes it nice looking and very useful.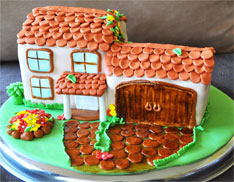 Such novelty house cake would be a very nice birthday house cake or may be a welcome home house cake. It was an attempt to make sweet special cake replica of a real houses which can be a surprise cake for your friends or family members who just bought a new house.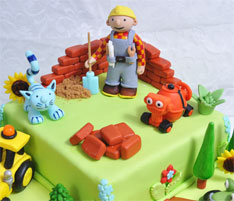 This Bob the Builder Cake is a very popular cake idea for kids all ages who love the cartoon and its characters. This cake design idea is very detailed to create the best unique and novelty birthday cake. Such Bob the Builder birthday cake will be the best cake surprise for birthday boys as well as birthday girls.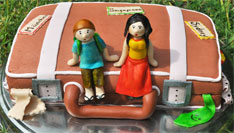 Such suitcase cake is a very popular cake decorating idea in making cake for weddings, birthdays, farewell and welcome home parties. A suitcase cake is the best cake idea that could be used to celebrate any travel related events.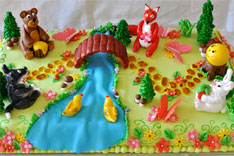 This is a fairytale forest animals birthday cake inspired by a Russian tale story called "Kolobok", where a dough ball was escaping from forest animals in order not to be eaten. This forest animals birthday cake is decorated with fondant animals and lots of colourful details.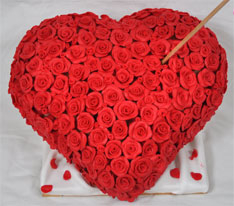 This is a heart-shaped cake made especially for Valentine's Day. This is a very impressive unique valentine's day cake. This is also a 3D heart-shaped cake made and decorated to celebrate love, romance and affection.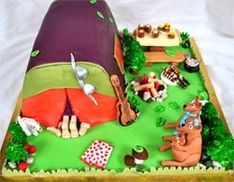 This is a very basic vanilla cake with butter cream and roasted nuts filling but made in the shape of a camping tent with a very adult theme going on around it. This is a sexy and funny camping birthday cake with lots of different fondant details and decorations.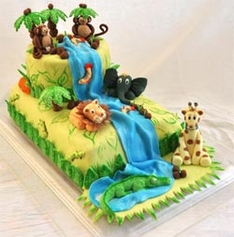 I just discovered your wonderful jungle birthday cake of internet it's look so great. I really love to it for the birthday of my son. May I ask you to tell me how you did ? I'm very impressed in all the details, the trees, the animals I'm impressed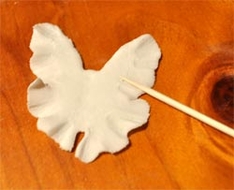 How to make marshmallow fondant
Here you will find detailed photo instructions about how to make marshmallow fondant. It is described in a very clear and simple way. There are so many things you can create with marshmallow fondant to decorate your cake and make it extra special.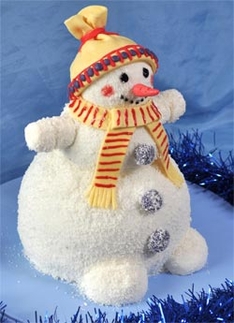 This is a winter and Christmas themed snowman cake. It is made in a very fun and simple way. It is covered with marshmallow fondant and coconut sprinkles. It could be a very cute snowy treat for a birthday, Christmas or a New Year Party.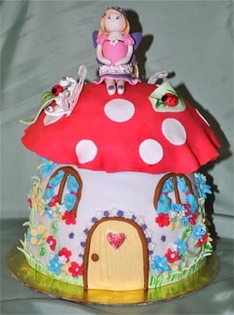 Fairies is one of the most popular themes for birthday parties and of course for decorated birthday cakes. There are many ways to decorate a cake in a fairy way. This cake is made in a shape of a mushroom house with lots of fondant flowers and a little fairy sitting on it.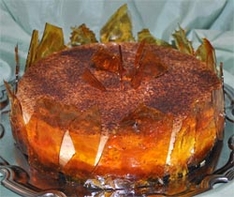 This caramel cheesecake doesn't only have some caramel inside but it is also decorated with sugar caramel. Such sugar caramel decorations would be an extra sweet treat for any cake lover. It just makes a beautiful sweet match.