Wedding Cake with Roses and Butterflies
Wedding is the most exciting, beautiful and romantic event. It is all about love and beauty. A wedding cake becomes a substantial part of any wedding reception. That is why people go from very classic to absolutely crazy designs and ideas about a cake to add more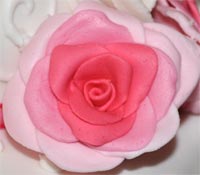 personality into their wedding.
I always wanted to make a wedding cake. It was always in my head and I had so many ideas and thoughts about the way it would look the best. Finally, I came to a very classing but so pretty look. Having a time limit of just a few days this was the best I could make at the moment.
It was a three tier cake with pink fondant roses and white sugar butterflies. I thought these would be the best colours for a wedding cake. The colours of the fondant roses were pink from bright to pale. I thought that this range of colours in one flower would make it more interesting and playful.
The colour of the cake was white. It is a very clean and beautiful colour, it made pink fondant roses even brighter and the whole look so fresh and light. I also made some swirls on the sides of the cake with royal icing. I've seen many wedding cake pictures and realised that white patterns look amazing on white fondant. I thought that with just plain white fondant cover the cake would look too quiet and boring.
Inside it was a butter cake with caramel and cream – one of my favourite fillings. I think very often a wedding cake happens to be more about look rather than taste. I really tried to be good in both. Hopefully I got it right. And I think this could also be a beautiful birthday cake for a very special big birthday party. Why wouldn't it.