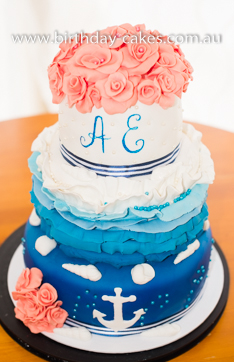 A three tiers marine themed wedding cake with marshmallow fondant decorations.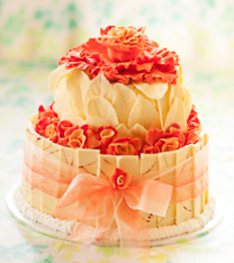 Roses and White Chocolate Wedding Cake
A two tiered wedding cake decorated with white chocolate and marshmallow fondant roses. Made to decorate a beautiful wedding table and later served as a yummy sweet dessert.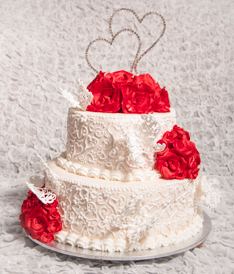 Butterflies and Roses Wedding Cake
A beautiful two-tiered chocolate wedding cake with marshmallow fondant roses and royal icing butterflies. I was happy to make and decorate this wedding cake to become a part of this special celebration.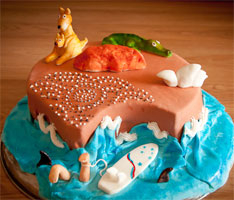 A fun and colourful Australia Day Cake. It is shaped like Australia and has all popular things about Australia. A special themed cake for a special day in Ozz.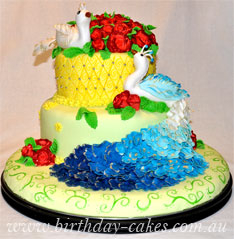 This peacock birthday cake is decorated with fondant peacocks and lots of beautiful fondant rosess to create a loving and romantic look. The idea was to show love and romance of these beautiful birds.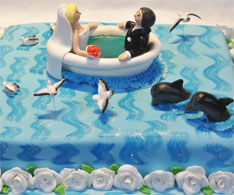 This unusual and very unique wedding cake was custom made for a very special couple. They had their very own love story and the details on this ocean themed wedding cake show it. It is very calm and has nice little details and wedding fondant roses around it.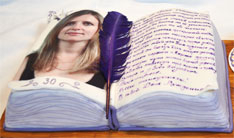 Book shaped cakes are very popular for special occasions, such birthdays, anniversaries and weddings. There are many ways you can decorate your unique book shaped cake. This particular book cake is decorated with an edible cake image of a birthday girl.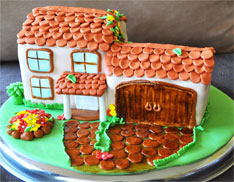 Such novelty house cake would be a very nice birthday house cake or may be a welcome home house cake. It was an attempt to make sweet special cake replica of a real houses which can be a surprise cake for your friends or family members who just bought a new house.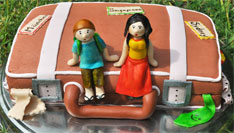 Such suitcase cake is a very popular cake decorating idea in making cake for weddings, birthdays, farewell and welcome home parties. A suitcase cake is the best cake idea that could be used to celebrate any travel related events.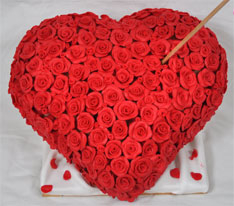 This is a heart-shaped cake made especially for Valentine's Day. This is a very impressive unique valentine's day cake. This is also a 3D heart-shaped cake made and decorated to celebrate love, romance and affection.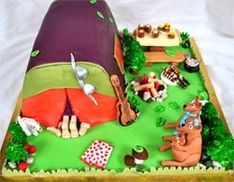 This is a very basic vanilla cake with butter cream and roasted nuts filling but made in the shape of a camping tent with a very adult theme going on around it. This is a sexy and funny camping birthday cake with lots of different fondant details and decorations.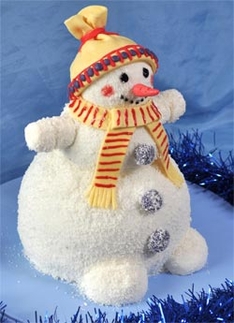 This is a winter and Christmas themed snowman cake. It is made in a very fun and simple way. It is covered with marshmallow fondant and coconut sprinkles. It could be a very cute snowy treat for a birthday, Christmas or a New Year Party.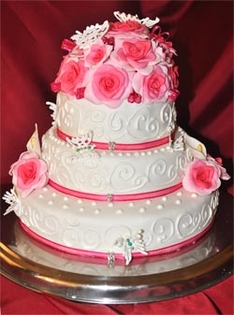 Wedding Cake with Roses and Butterflies
This is a very classic wedding cake. It is a three-tiered wedding cake covered with marshmallow fondant and decorated with marshmallow fondant roses and sugar butterflies.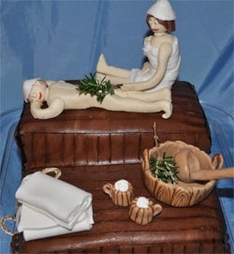 This is a very special sauna birthday cake and would be a great sweet surprise for any sauna lover. It was great fun to make and decorate this sauna cake. I love to work with little details on cake decorations.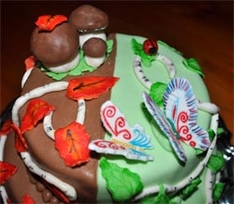 Spring-Autumn Seasons Birthday Cake
This seasons birthday cake is decorated in a very special way. It shows connection of two opposite seasons 'Äď autumn and spring. It was a specially decorated birthday cake for a person who came to Australia from Europe and now his birthday is celebrated in spring opposite to autumn as it was before. This seasons birthday cake unites these two seasons in a beautiful sweet way.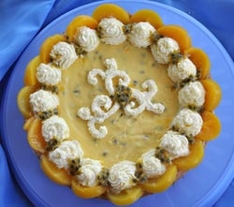 A passion fruit tart like this one is the most delicious desserts to have on a hot day. It is very light but reach in flavour. One of the main ingredients is passion fruit and it has a very definite flavour and a nice sour taste as well.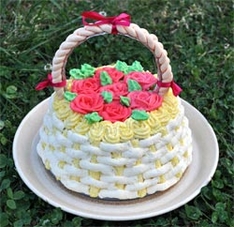 This basket of roses cake is very sweet and has lemon butter cream inside and out. It is decorated to look like a basket with roses. I used a bit of marshmallow fondant and butter cream to make a basket kind of pattern and butter cream roses. Such basket cake would make a fantastic birthday cake surprise.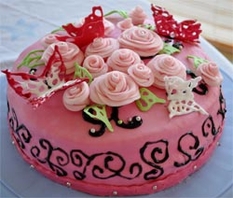 Pink Roses and Butterflies Cake
This pink cake with fondant roses and sugar butterflies was one of my first attempts to work with fondant cake decorations. Even though it has a few flaws this roses and butterflies cake was made with lots of love and passion.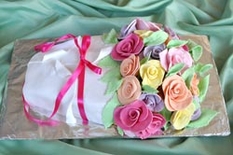 This is a rose bouquet birthday cake. It is decorated to create the look of a wrapped bouquet of roses. I covered the cake with marshmallow fondant and put a couple of layers of fondant to create a more real wrapping paper. To make this bouquet bright and happy I made fondant roses of different colours.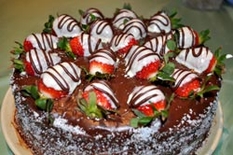 Chocolate and Strawberries Birthday Cake
This is the most chocolate cake I've made do far. It is chocolate inside and out. And of course strawberries were the main decoration as they are the best to decorate with chocolate and taste so good with chocolate together.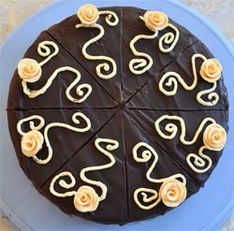 A very simple chocolate cake with cream colour roses is one of the best and pretty options for a small adult birthday party. It is simple but elegant. This kind of cakes are made to taste delicious and can be decorated in a more simple way. Even having a few little fondant roses on top it still talks 'Äúcelebration'ÄĚ.