To make this birthday cake was the best fun I've ever had. This is a very cool idea for a birthday surprise for someone who enjoys sauna or even has one on the backyard. I know it is really warm in Sydney most time of the year, but fans of sauna say you still need to go there for this unforgettable effect of heat on your body.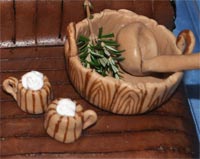 In this birthday cake I tried to show all things you normally see in Finnish saunas, which is very popular in colder countries, but it is also very often met here in Sydney . Of course steps, where people sit or lie; also towels, glasses with beer, tub with water and of course heater with stones. There are some candles in the heater for some warm fire and of course blowing the candles, which is a common birthday tradition.
I covered the cake with chocolate fondant made with butter, cream, dark chocolate and marshmallows. So easy to make and so nice to work with. It never sticks to the roller or fingers. I just love it. I cut lines all over it with the knife to make the look of timber. Then I painted the lines with dark brown food colour to make nice timber look.
The most fun was to make the figures. It really takes some time and practice to make all body parts as real as possible. Sometimes it is ok to just show the idea of something, but I think the more real it looks the more impression others get. As the result I think it looks nice and very warming.