Cheesecake with fruits and caramel
I can't even say how much fun it was to work with caramel to decorate the cheesecake. It was the first time in my life I've decorated with sugar like this. My brother helped me with it. He is so good in cooking and I was happy to have him around at that moment, because melted sugar dried so quickly I could hardly manage to cover the fruits with sugar stripes and swirls. But I was so delighted with the result. It looked amazing and it sparkled under the light. I had some dough left and made a few cheese cupcakes and decorated them as well.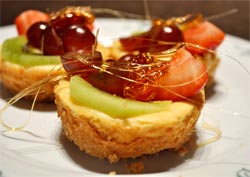 I see now how many amazing decorations it is possible to make with sugar. It is just a matter of experience, skills and a lot of practice. It is this kind of material that is hard to work with.
That was a very classic baked cheesecake. I find cheesecakes quite rich and I believe any cheesecake needs a bit of sourness. That is why I added fruits: grapefrut, kiwi fruit, strawberries, grapes, cherries and oranges. Or it could be a good idea to add raspberries or any berry jam.
The cake looked amazing. Everyone was really impressed and excited to try. The cake itself tasted delicious, but the sugar decorations became very hard and I think too crispy. It was a bit funny to bite it. I think the next time I would put a bit less of sugar syrup on top. Apart from this, I was really happy with the cake. I am sure I would make it again and try some new ideas for sparkly caramel decorations.