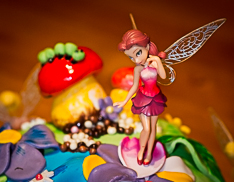 A colourful and simple birthday cake for girls for a fairies themed birthday party. I talk about using some handy tips for making this type of birthday cakes and saving heaps of time by using pre-made decorations.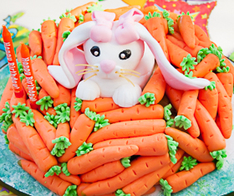 Bunny and Carrot Birthday Cake
Cute and very colouful, this bunny and carrots cake brought lots of smiles and joy for the little girl's second birthday party. Hope it will inspire you in some way for your cake creations.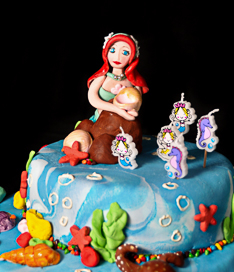 Mermaid Birthday Cake for Girls
A fun and colorful birthday cake for a mermaid themed party. It has a mermaid and all kinds of ocean themed edible decorations.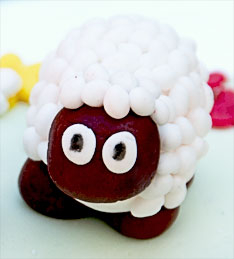 Colourful, fun and so loved by kids farm animals cake decorations. They are made from marshmallow fondant. Such farm themed edible cake decorations will make any kids birthday cake or cupcakes very special and exciting for kids.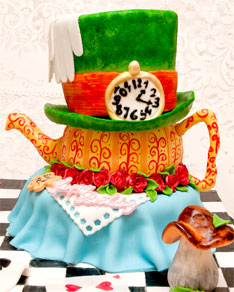 Alice in Wonderland Birthday Cake
A colouful three tier Alice in Wonderland Birthday cake for girls. It is chocolate inside and very colourful and bright outside. Was very delicious and just loved by kids.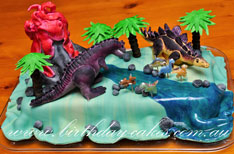 A dinosaur birthday cake for kids. It is a chocolate mud cake inside and a dinosaur world outside created with sweet marshmallow fondant decorations and beautiful dinosaur themed birthday candles as a fun and bright finishing touch to this dinosaur themed birthday cake for kids.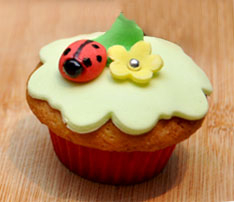 Kids Birthday Cupcakes with Flowers and Ladybugs
These are small size kids birthday cupcakes, covered and decorated with marshmallow fondant. They are very sweet and are also of a very good size for the little ones' hands. These birthday cupcakes are decorated with ladybugs, fondant leaves and flowers and would be a perfect birthday dessert for a boy's or girl's birthday party.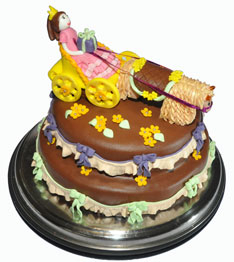 Princess Carriage Birthday Cake
This Princess birthday cake is one of the most wanted and loved birthday cake ideas for girls. This chocolate two-tiered princess carriage birthday cake has got a chocolate look and flavour, cute little fondant bows around every tier, a cute bright yellow carriage with the fondant horsy with golden fairytale mane and of course a fondant princess in a pink ball gown.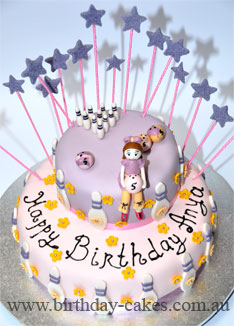 This is a bowling birthday cake for a bowling themed birthday party. This is one many kids cakes ideas. This one in particular, is a pink and purple bowling cake for girls. To make it a bowling cake for boys, just change the colour of the fondant to blue, green, yellow or any other neutral or boys colour and make a fondant figure of a boy.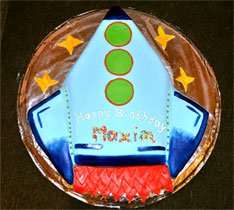 This is a very simply but still very bright and colourful rocket ship birthday cake for boys. It is a quick cake to make and decorate and best to match any space themed kids party. This kind of rocket cake doesn't take much time to make and decorate at all.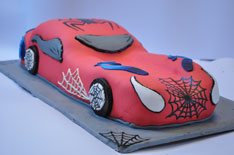 This spiderman racing car birthday cake could be one of the best birthday cake ideas for a boy's birthday party. It is a 3D racing car cake decorated to match a spiderman themed party. It is a perfect cake decorating idea to make any boy's party so special.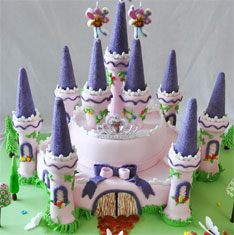 A castle cake is a fairytale dream cake for many little girls. There are so many princess castle cake ideas and designs. This castle cake has pink and purple colours and lots of detailed edible fairytale decorations.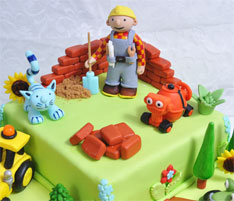 This Bob the Builder Cake is a very popular cake idea for kids all ages who love the cartoon and its characters. This cake design idea is very detailed to create the best unique and novelty birthday cake. Such Bob the Builder birthday cake will be the best cake surprise for birthday boys as well as birthday girls.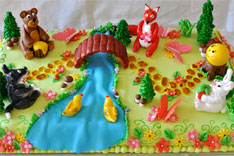 This is a fairytale forest animals birthday cake inspired by a Russian tale story called "Kolobok", where a dough ball was escaping from forest animals in order not to be eaten. This forest animals birthday cake is decorated with fondant animals and lots of colourful details.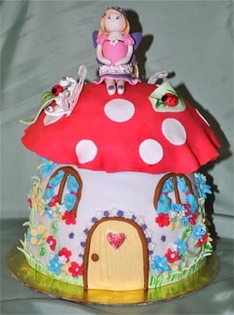 Fairies is one of the most popular themes for birthday parties and of course for decorated birthday cakes. There are many ways to decorate a cake in a fairy way. This cake is made in a shape of a mushroom house with lots of fondant flowers and a little fairy sitting on it.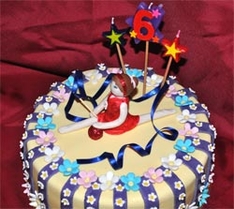 This is a girly and sporty birthday cake. It has cute little fondant flowers and gymnastics elements as well. I loved the idea of a curly ribbon swirling around the top of this gymnastic themed birthday cake.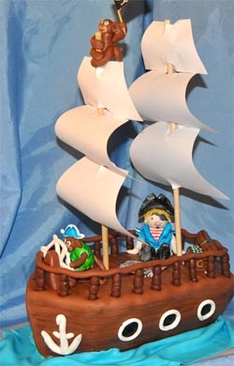 This is a pirate ship birthday cake for boys. It is covered with chocolate fondant and decorated with fondant figures of pirate monkeys and a pirate. It has paper sails but all other decoration on this pirate themed cake are edible and made of marshmallow fondant.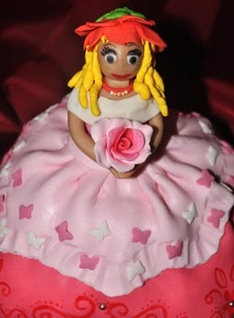 This is a birthday cake made in the shape of a princess doll. There is a cake inside and it covered with marshmallow fondant. The top of the princess doll is also made of fondant. Very often such princess cakes are made using a real plastic doll, but this cake is edible from top to toes. It is sweet, colourful and girly.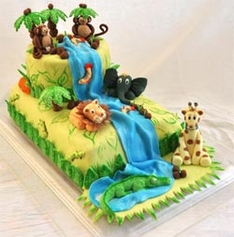 This is a two-tiered jungle cake for boys and girls. It has lots of pretty jungle animals fondant decorations, such as fondant elephant, giraffe, crocodile, monkeys etc.. It is very colourful and it makes it one of the best birthday cake ideas for kids.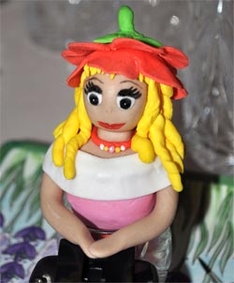 This is a top of a future Princess birthday cake. I decided to go with a totally edible doll shaped princess cake and made this top half from marshmallow fondant. Later I will attach it to the cake which will make a bottom part in the shape of a skirt.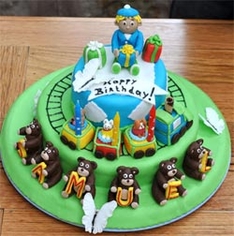 Train and Teddy Bears Birthday Cake
This is a very special train and teddy bears birthday cake made for a little boy's birthday party. It is a two-tiered cake covered with marshmallow fondant and decorated with marshmallow fondant teddy bears holding edible fondant letters making the name of the birthday boy.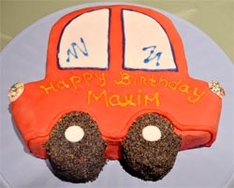 It is a very simple red car birthday cake made for my little boy's birthday. It was a very simple sponge cake with poppy seeds and raisins. It is covered with marshmallow fondant and decorated with writing icing and poppy seeds on the wheels. It is quite simple but very quick and cute way to make your kids birthday special.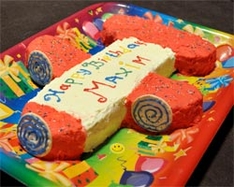 This is a very simple and fast to make airplane birthday cake. It is cut to make an airplane shape and covered with whipped cream which I coloured in the favourite colours of the birthday boy. This kind of cake is for those who have not much time for detailed decorations and fondant making. It is still bright and pretty and all little ones will be happy to blow birthday candles on their favourite character birthday cake.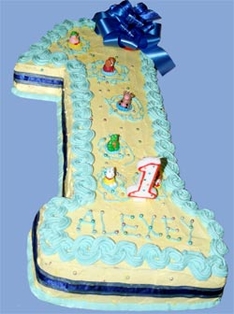 Number shaped cakes are very popular birthday cakes for kids and adults as well. Numbers are very symbolic and are used to underline the age of a birthday person and this cake idea is used a lot to celebrate very special dates like first birthday or twenty first birthday and so on. This number one birthday cake was very special for us as we celebrated our child's first birthday.