Princess Carriage Birthday Cake
A Princess birthday cake is the most wanted and loved birthday cake idea by girls. This chocolate two-tiered princess carriage birthd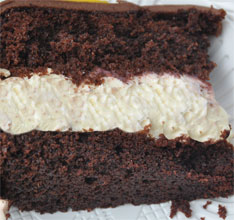 ay cake has got it all. It has a chocolate look and flavour, which most kids like; it has cute little fondant bows around every tier of that special girls birthday cake; it has a cute bright yellow carriage with the cutest fondant horsy with golden fairytale mane and of course a fondant princess in a pink ball gown.

The way this chocolate princess carriage cake is decorated may look a bit simple but it is the way the main princess carriage centrepiece is underlined. The fondant carriage and horse cake decorations were made quite big in size so it almost was kind of another tier of this Princess themed cake, but that actually is what it is all about.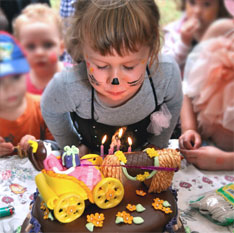 I really like working with small tiny details while decorating any birthday or other occasion cakes I make. I loved putting some small fondant flowers on the top part of this princess birthday cake and I loved this sparkly bright pink ribbon that I used to make the most shiny and pretty reins for the princess to hold.

I also added a little tiny fondant present box with a little bow, just to put a touch of birthday idea into this princess carriage birthday cake decorations.

I personally would choose brighter and girlier colours for this pincess themed cake, but the chocolate colour as well as the flavour was the choice of a birthday girl. To brighten it up I decorated the princess carriage birthday cake with light colourful fondant bows and ribbons. May be some fondant roses and leaves would be nice to also decorate with but I didn't want it to look like a wedding cake or like the one for an adult occasion.

Anyway, this chocolate princess carriage fairytale cake turned out gorgeous and hopefully will give some inspiration for those who are looking for princess carriage themed cake ideas.