A castle cake was a dream cake for me. I've seen so many princess castle cake ideas. And now I decided to try to make one of my own home made castle cakes. I certainly wanted to go with pink and purple colours for my castle birthday cake for girls.
Normally I make all the birthday cake decorations edible, this time I still sticked to my rules, but added a little toy princess tiara as a not edible cake decoration. It added a princessy look and was a very good cake decorating idea for such princess castle birthday cake.
The most work was done on the castle cake towers. I made them with ice-cream cones, marshmallow fondant and coloured sugar. I didn't want to use any plastic castle cake kits. I wanted to make a real cake with sweet edible decorations. For the first time I tried colouring sugar. It is so easy and so handy for so many novelty birthday cake decorating ideas.
To colour sugar you will need a plastic bag, white sugar and food colouring. I used gel food colouring this time, but I think liquid or powder ones would be good as well. You put sugar and a drop of food colouring in the plastic bag and blow a little air in it and close tightly. If your bag is filled with air it will be a lot easier to shake the sugar. Shake your sugar until it reaches the colour you wanted. With gel colouring shaking may not work. In that case let the air out and keeping the bad closed just rub the bag with sugar between your palms. It worked for me.
I wanted not only to make castle cake but also to create a fairytale picture placing some fondant cake decorations around the princess birthday castle cake on the cake board. I made fondant trees, fondant animals and fondant butterflies.
One of the new cake decorating techniques I also used this time was making a pond looking like a real one. I used edible candy gel which I bought in a supermarket. It is very thick and doesn't leak. It made pond water look like real water.
Altogether this novelty princess castle birthday cake turned out very detailed, pretty and sweet.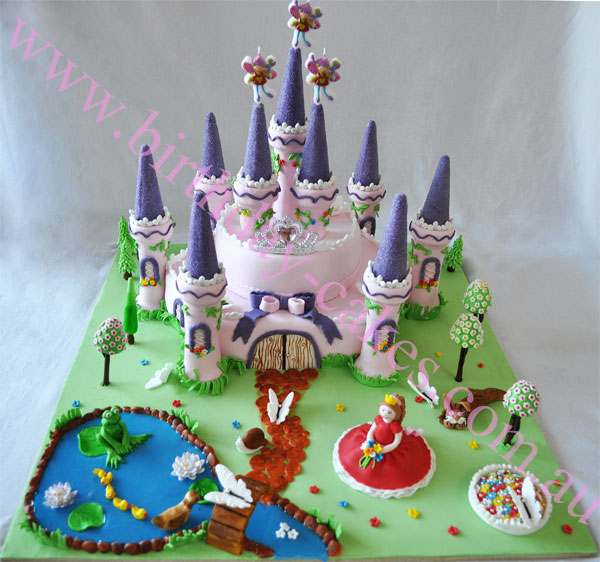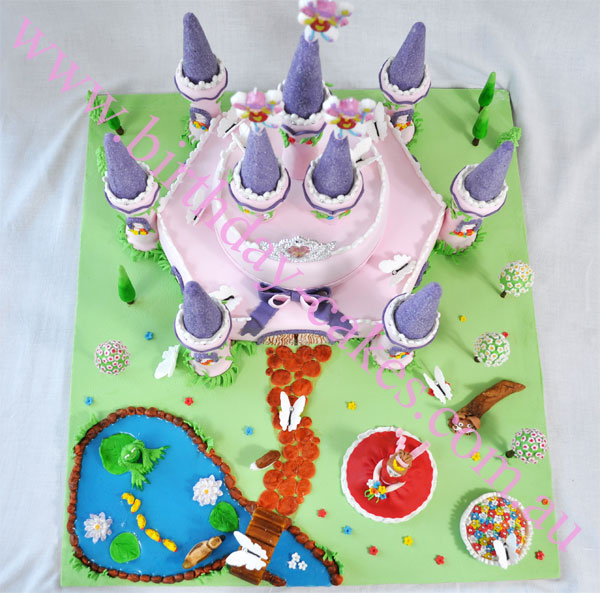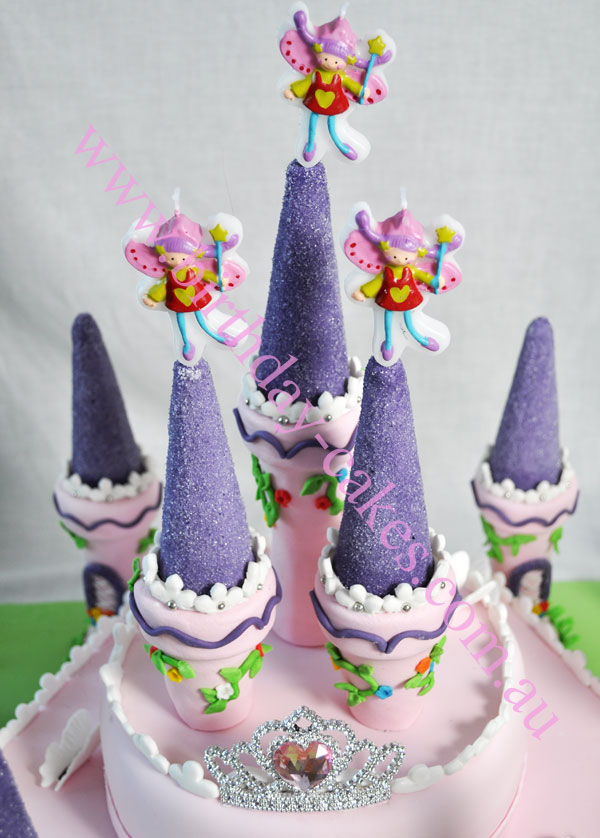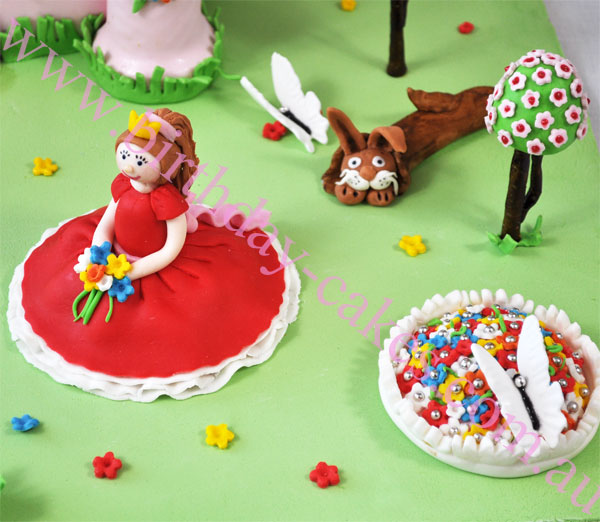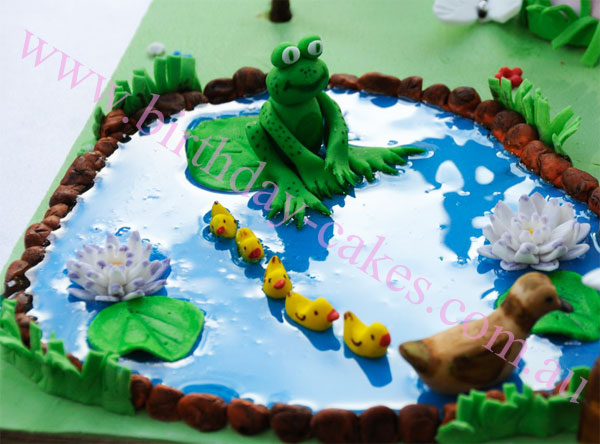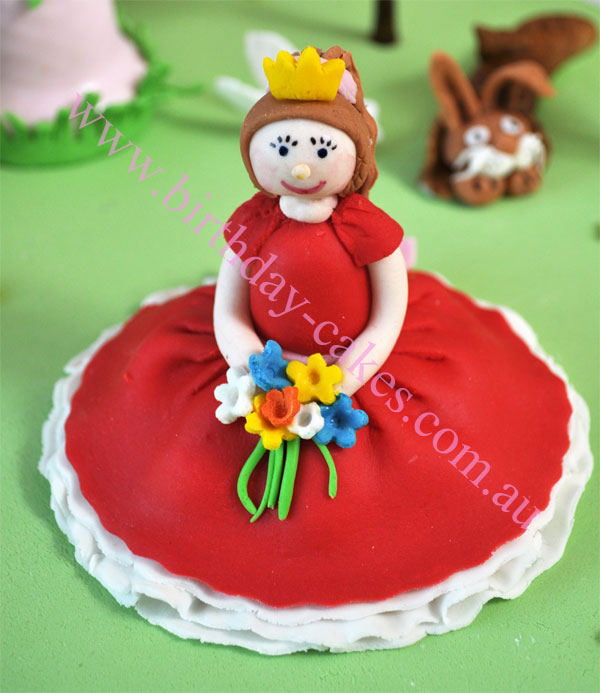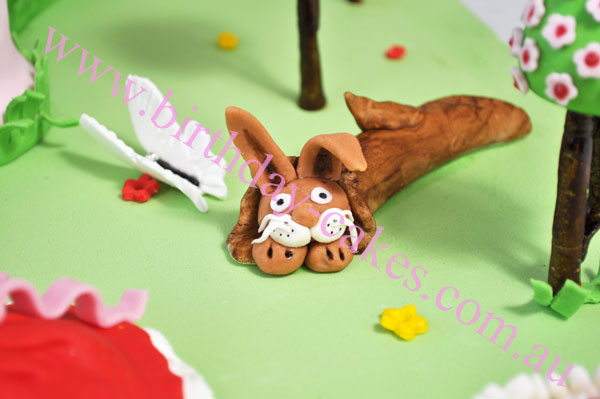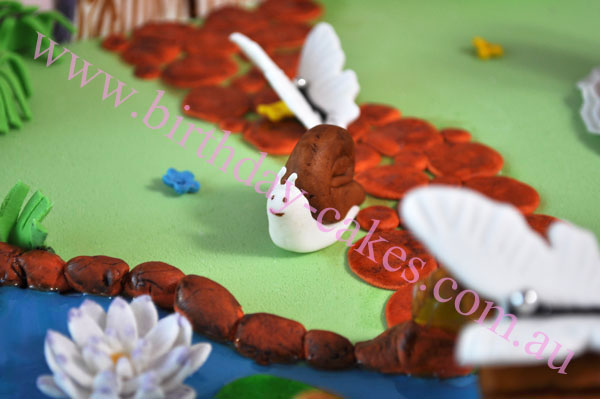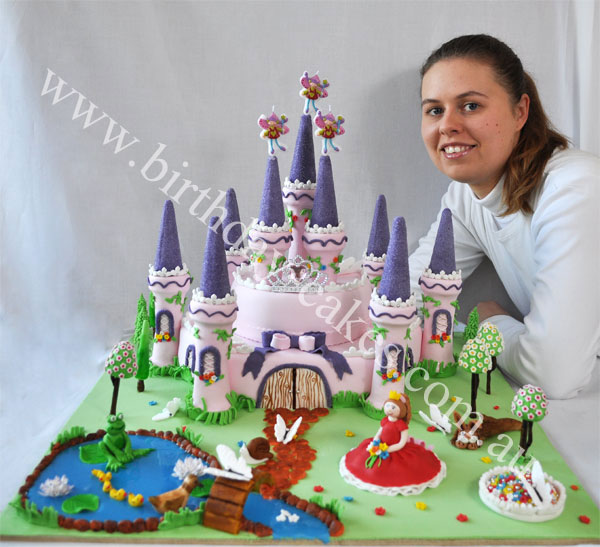 ==========================================================================
Cakes inspired by
Birthday-Cakes.com.au

==========================================================================
"Thank you so much for your wonderful, informative web site!!!! I had never worked with any kind of fondant before, and I found your instructions so easy to follow, and your cakes so inspiring. My daughter and her friends absolutely loved her princess castle cake :)
With my 30th coming up, the sexy camping cake might be on the agenda next :)

Thank you so much for sharing your magic cakes & techniques,
Amy"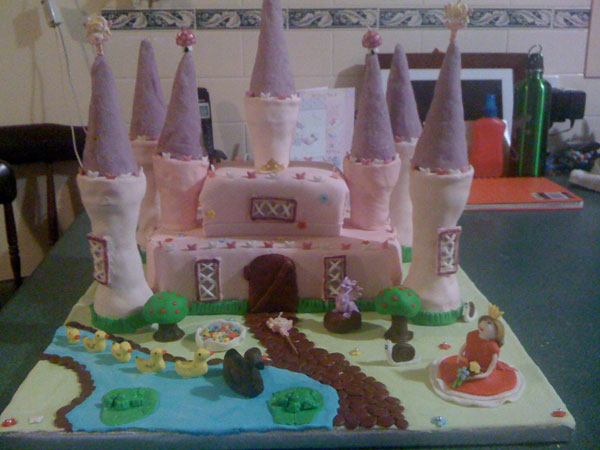 ==========================================================================
"Hi Marina

Just wanted to share this with you...

I loved your castle cake which my husband initially came across and decided to make similar one for my lilttle girl.
The pink and purple color combination was great. But instead of fondant I wanted to make it with butter icing ( i prefer butter
icing over fondant..). I found it hard to get it smooth with butter icing though. But tried my best and made the cake for my lil girl's first birthday today.
And I wanted to share the photo with you...

Kind Regards
Vans"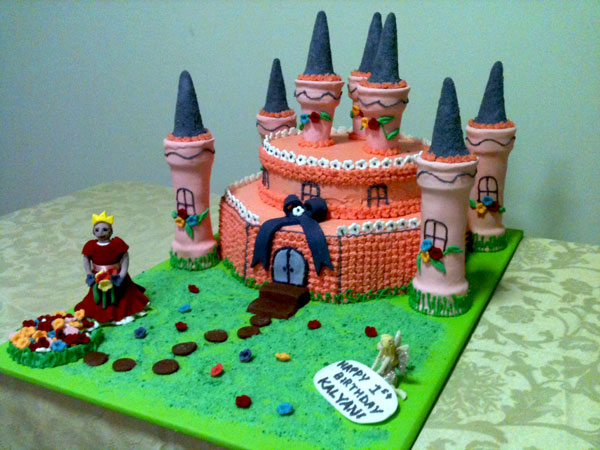 ==========================================================================
Hi

I sent you a message a while back asking for help on securing the towers for transport and said I was attempting to make this cake for my daughters 6th birthday party which was last week. Well here is the result. I used your marshmallow fondant recipe and it was fantastic but would like other readers to note that if you buy cheap marshmallows it will make it harder to work with as I found out. I created this cake following your design and another that I had seen in a book. I even managed to make the princess and her flowers out of fondant which I was quite proud of. My daughter had a great time helping to make the ducks, ladybirds and all the butterflies and flowers. Thanks for all your great tips and ideas. Hope you enjoy the pics.

Jess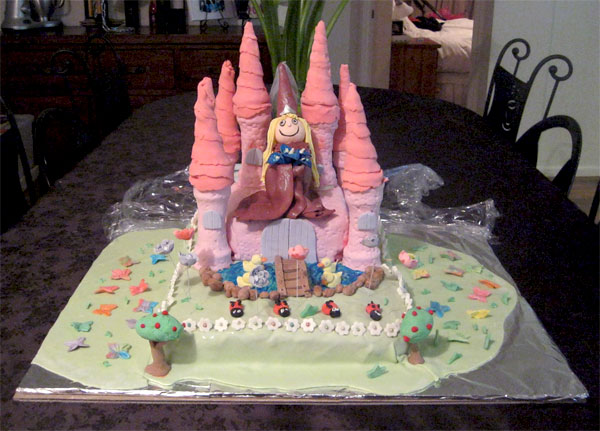 ==========================================================================
Hi Marina

I just want to say a huge thank you for your fabulous ideas and helpful hints! My 5 year old asked for a castle cake for her princess and pirates birthday party but wanted me to make it. I'm not a cake maker by any stretch of the imagination but after trawling the internet for ideas I found your website with your amazing pink castle cake and decided I would give it a go. The ideas for turrets and recipe for fondant icing were brilliant and I was pleasantly surpirsed at how easy they were to make. As a first timer the turrets probably took about 5 hours altogether and putting together the cake and decorating took about 4 hours although if I ever do one again it will take much less time. Who know what she'll ask for next time!

I was extremely pleased with the overall effect although I have no talent for figure making but the polly pocket type disney tangeld princess was just the right size. Most of the mums thought I'd had it made professionally which I was of course delighted with but best of all was the look on my daughters face when she saw the finished product - worth the effort any day!

Thanks for sharing your brilliant ideas with us!

kind regards

Vicky
Chester, UK