Roses and White Chocolate Wedding Cake
I was very lucky to have another chance to make and decorate a wedding cake. As I don't get this opportunity often I decided to put together all the ideas that had been sitting in my head for a while then.
The idea behind this wedding cake design is to recreate leaves and flowers and make them the main part of this light and dreamy roses wedding cake.
The two-tiered cake has a giant marshmallow fondant rose as a topper and white chocolate leaves all around the top cake layer. The bottom layer is covered with white chocolate blocks. To hold them together I used a matching colour ribbon and a bow. I didn't intend the blocks to be exactly the same size and height. I thought being cut out not very ideally will make it look more creative.
To make white chocolate leaves for the top layer of this wedding cake I used real rose leaves. I had a whole bunch of them and covered them with melted white chocolate. I used a brush for more convenience. After the chocolate was set, I carefully peeled the leaves off. They left a beautiful and very natural looking leaf patterns on my chocolate leaves. You still need to be very careful as the chocolate is very delicate and breaks easily. It is best to make sure you have quite a few spare ones, in case some break.
Altogether it looked very delicate and romantic. I really love how vanilla white chocolate colour goes together with orangy red marshmallow fondant roses. I think this rose wedding cake turned out very warming and yummy, having vanilla cakes layered with caramel butter cream filling inside. My favourite recipe.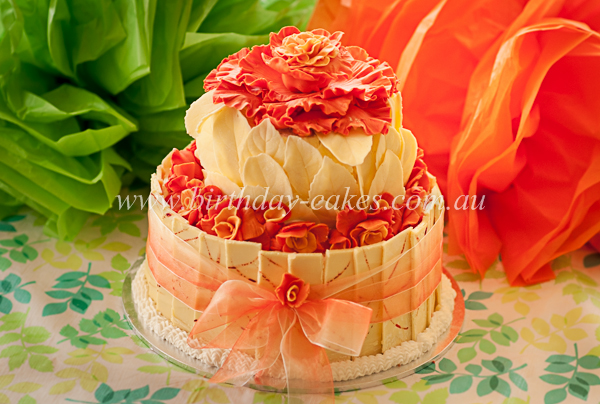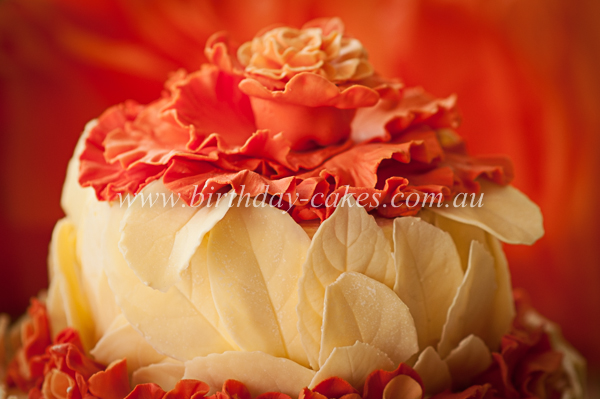 \