How to make a chocolate cake.
This is a chocolate cake recipe which I absolutely love and use every time for my birthday cakes and mostly for kids birthday cakes. This is a very basic and simple chocolate cake recipe, but works every time I bake a birthday chocolate cake.
Here you will find all needed chocolate cake ingredients information to match your baking dish size and shape and help you make the most delicious chocolate cake.
A little tip on how to make a chocolate cake with filling for your coming birthday party. Chocolate cake goes really well with cream filling. Very often I add some lemon juice and lemon zest into the filling to add a bit of sourness to compliment the sweet chocolate flavour. It just makes an amazing combination.
So, for this chocolate cake recipe you will need:
Softened butter
Caster sugar
Vanilla extract
Eggs
Self-raising flour
Plain flour
Bicarbonate of soda
Cocoa powder
Buttermilk
Baking time for this chocolate cake varies from 1 to 1.5 hours depending on the size of your baking cake tin.
The exact amounts of each of the ingredients listed above you will find in the table below according to the cake tin size that you have. I took this table from "The essencial guide to cake decorating" book, which is just amazing and makes counting, planning and shopping for the cake ingredients easy and nice.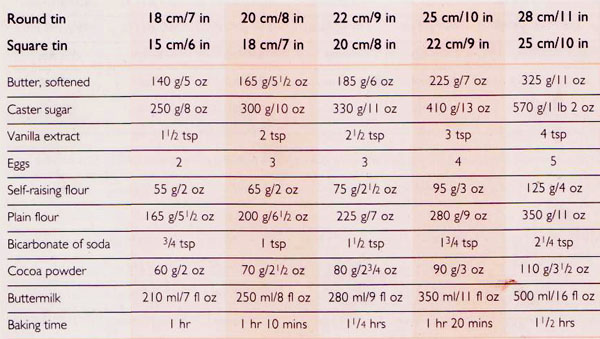 What you need to do:

Preheat the oven to 180 C.
Grease the tin and line the base with baking paper.
Beat the butter, sugar and vanilla extract with electric mixer until the mixture becomes light in colour and fluffy in texture.
Add eggs one at a time and continue beating after each addition.
Fold in separately combined sifted flours, soda, cocoa powder and buttermilk.
Spoon it all into your cake tin and bake for the time stated in the provided table.
When the cake is ready a skewer inserted into the centre of the cake should come out clean.
Storage: keep it in an airtight container in the fridge for a week or you can freeze it for as long as 2 months.
Hopefully, you'll find this information on how to make a chocolate cake helpful and this chocolate cake recipe useful.