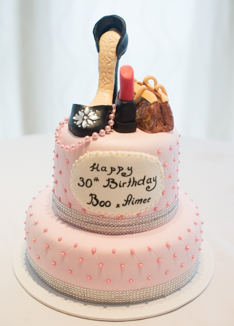 Baby Pink Pearls & Shoe Birthday cake
A tow-tier birthday cake for twin girls birthday. Pearl baby pink fondant cover with girly cake toppers for a very special celebration.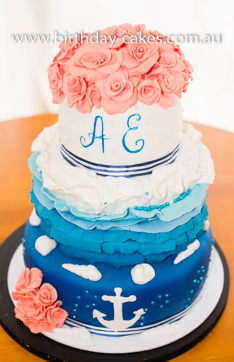 A three tiers marine themed wedding cake with marshmallow fondant decorations.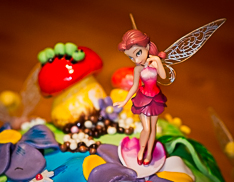 A colourful and simple birthday cake for girls for a fairies themed birthday party. I talk about using some handy tips for making this type of birthday cakes and saving heaps of time by using pre-made decorations.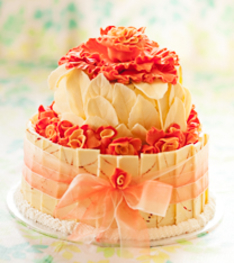 Roses and White Chocolate Wedding Cake
A two tiered wedding cake decorated with white chocolate and marshmallow fondant roses. Made to decorate a beautiful wedding table and later served as a yummy sweet dessert.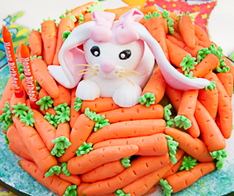 Bunny and Carrot Birthday Cake
Cute and very colouful, this bunny and carrots cake brought lots of smiles and joy for the little girl's second birthday party. Hope it will inspire you in some way for your cake creations.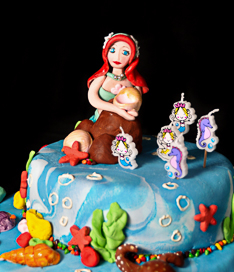 Mermaid Birthday Cake for Girls
A fun and colorful birthday cake for a mermaid themed party. It has a mermaid and all kinds of ocean themed edible decorations.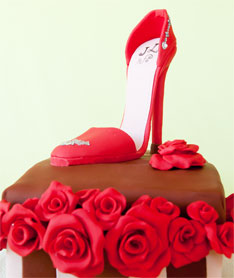 A simple and elegant way to make a fashionable shoe box birthday cake for someone very special to you. It makes it stand out if you add some edible flower decorations and a shoe cake decoration on top.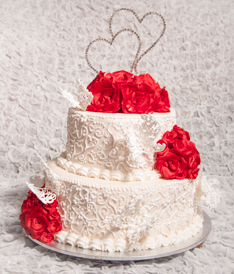 Butterflies and Roses Wedding Cake
A beautiful two-tiered chocolate wedding cake with marshmallow fondant roses and royal icing butterflies. I was happy to make and decorate this wedding cake to become a part of this special celebration.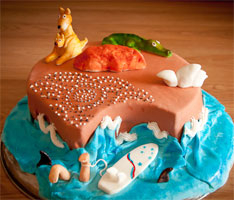 A fun and colourful Australia Day Cake. It is shaped like Australia and has all popular things about Australia. A special themed cake for a special day in Ozz.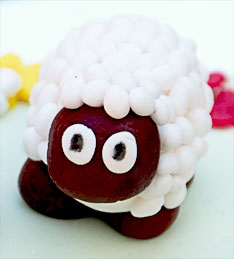 Colourful, fun and so loved by kids farm animals cake decorations. They are made from marshmallow fondant. Such farm themed edible cake decorations will make any kids birthday cake or cupcakes very special and exciting for kids.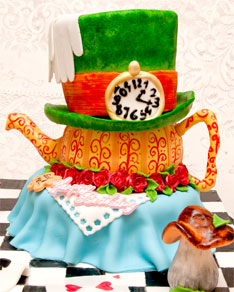 Alice in Wonderland Birthday Cake
A colouful three tier Alice in Wonderland Birthday cake for girls. It is chocolate inside and very colourful and bright outside. Was very delicious and just loved by kids.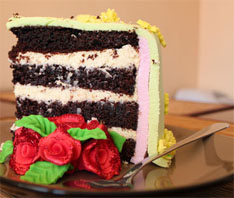 I'm glad to share this basic chocolate cake recipe. It will be a perfect cake recipe for any kids birthday party and any party for chocolate cake lovers.
A dinosaur birthday cake for kids. It is a chocolate mud cake inside and a dinosaur world outside created with sweet marshmallow fondant decorations and beautiful dinosaur themed birthday candles as a fun and bright finishing touch to this dinosaur themed birthday cake for kids.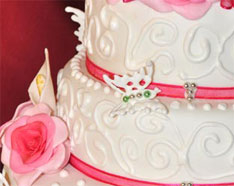 This is a very easy royal icing photo recipe. Royal icing is used for cake decorating and making all kinds of sugar decorations for cakes. Royal icing is also used to decorate cookies, gingerbread houses, candies and many other sweet treat to make them look extra special. Although it is very sweet, normally it is used just for finishing touches but not that much for eating.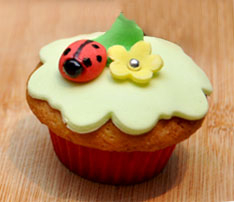 Kids Birthday Cupcakes with Flowers and Ladybugs
These are small size kids birthday cupcakes, covered and decorated with marshmallow fondant. They are very sweet and are also of a very good size for the little ones' hands. These birthday cupcakes are decorated with ladybugs, fondant leaves and flowers and would be a perfect birthday dessert for a boy's or girl's birthday party.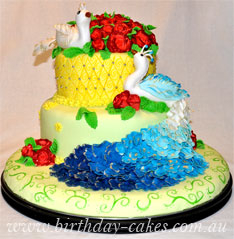 This peacock birthday cake is decorated with fondant peacocks and lots of beautiful fondant rosess to create a loving and romantic look. The idea was to show love and romance of these beautiful birds.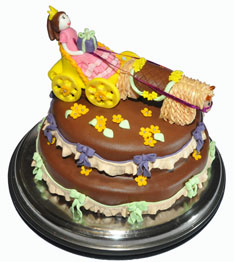 Princess Carriage Birthday Cake
This Princess birthday cake is one of the most wanted and loved birthday cake ideas for girls. This chocolate two-tiered princess carriage birthday cake has got a chocolate look and flavour, cute little fondant bows around every tier, a cute bright yellow carriage with the fondant horsy with golden fairytale mane and of course a fondant princess in a pink ball gown.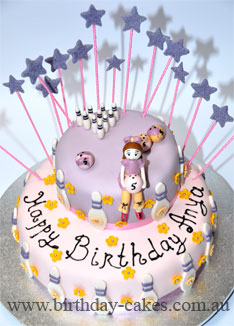 This is a bowling birthday cake for a bowling themed birthday party. This is one many kids cakes ideas. This one in particular, is a pink and purple bowling cake for girls. To make it a bowling cake for boys, just change the colour of the fondant to blue, green, yellow or any other neutral or boys colour and make a fondant figure of a boy.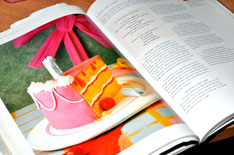 Cake decorating books is just the right thing for a self-taught person who likes to try things and learn by lots of practicing. There is so much contained in cake decorating books that will help you to learn the basics of cake decorating techniques and will disclose some simple cake decorating secrets and recipes.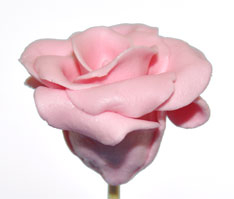 Here you can find some simple instruction on how you can make edible marshmallow fondant roses. Simply follow them to decorate your very special birthday cake. Or just make some beautiful fondant roses in advance for future occasions.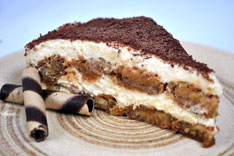 Have a look at this very easy tiramisu recipe. This is one of the basic tiramisu recipes. Tiramisu is one of the most popular and loved desserts. To make it extra special just add a nice cake decorating touch as shown on the pictures you will find.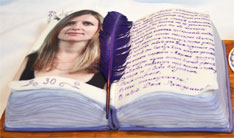 Edible cake images are commonly used as a convenient and easy but very impressive cake decorating idea to apply on the top of cakes or cupcakes. This is the way you have a beautifully decorated cake to match the theme of your party.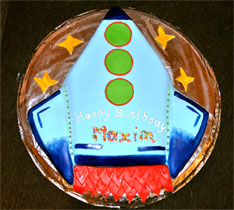 This is a very simply but still very bright and colourful rocket ship birthday cake for boys. It is a quick cake to make and decorate and best to match any space themed kids party. This kind of rocket cake doesn't take much time to make and decorate at all.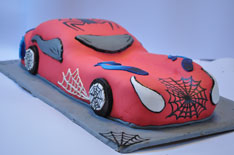 This spiderman racing car birthday cake could be one of the best birthday cake ideas for a boy's birthday party. It is a 3D racing car cake decorated to match a spiderman themed party. It is a perfect cake decorating idea to make any boy's party so special.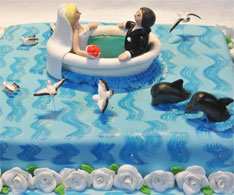 This unusual and very unique wedding cake was custom made for a very special couple. They had their very own love story and the details on this ocean themed wedding cake show it. It is very calm and has nice little details and wedding fondant roses around it.